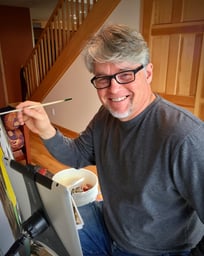 Jason Morgan has worked as a self-taught Ohio artist for over 20 years. He paints in acrylic on canvas using a dry-brush technique. His still lifes and portraits are collected by individuals and institutions throughout the US.
Jason was born and raised in rural southeast Texas. He joined the Marines in the hopes of seeing the world before settling down. When an injury cut short his time in the service, he decided to pursue a career in the arts. In the various graphic design jobs he held in the following years, he was fortunate to have mentors who recognized his talent and encouraged him to paint. His real training came during a period of creating old master reproductions. This experience gave him the confidence to pursue painting full time. He spent the first decade working on portrait commissions and large-scale murals in southwest Ohio and over the years has shifted primarily to still life painting.
Artist Statement
I do still believe the beauty is in the details but I've gradually become less concerned with a "perfect" interpretation of an object and more interested in creating space for surprise and a little escape.